Dast2Dast: Serving Up Soul Food for the Homeless- Persian Style
Desiree Mehbod, a conversation with Rudi Bakhtiar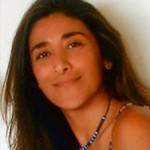 It's 8am on Tuesday, just two days before Christmas, and while most of us are frenetically tending to last minute "Festivus" details, one Iranian American is quietly planning a holiday dinner for over a hundred homeless Virginians. Every month, Desiree Mehbod and her posse of over 10 volunteers converge on The Bailey's Crossroads Shelter in Falls Church, Virginia, and serve up some of the best Persian Soul Food in town to those who can't afford to feed themselves. Armed with the best flavors of Iran, from Loobiya Polo to Kabob Koobideh, these Iranian American angels transform the tired and hopeless faces of the desperate to smiles and momentary gratification.
Estimates say there are one hundred million homeless people in the world, with close to 700,000 sheltered and unsheltered homeless persons nationwide here in the United States. PAAIA salutes Desiree for her hours of volunteer work and her important role in fighting this global epidemic from her own backyard.
R: How did you come up with the idea of Dast2Dast?
D: I came across the idea of Dast2Dast through the different charity activities I was involved with. I started volunteering at shelters to feed the homeless through Amma charity organization and after a few months, decided to organize shelter dinners myself by involving friends and family members.
R: What's been the biggest challenge coordinating an undertaking like this?
D: There are approximately 110 residents at the shelter for the hypothermia program from December through March. The most challenging part of feeding over 100 homeless people is having enough volunteers to participate. We have dedicated volunteers who have been participating month after month for the past 3 years but most volunteers are temporary. It is difficult to get people interested in volunteering nowadays. Everyone hit by the bad economy is cutting back.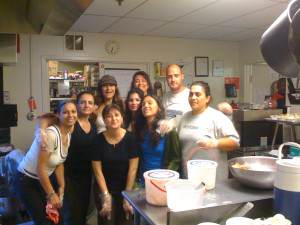 R: How is Dast2Dast funded?
D: Dast2Dast.org is funded by its volunteers, who also make our work possible with their volunteer time and effort. Last year, a company who wishes to remain anonymous, asked Dast2Dast to distribute 150 turkeys to the needy. Three of our volunteers spent numerous days calling shelters and dropping off the turkeys to different facilities, as well as driving to poor communities and handing out turkeys.
R: Your menu is pretty unique, isn't it?
D: What sets us apart from other charity organizations feeding shelter residents is our menu which is unique and appealing. Time after time, we are welcomed with such open arms by shelter residents, who often tell us how they wish we could serve them every day. The menu is healthy, appealing and diverse, using all the food groups. Volunteers prepare home-made meals such as Persian mixed rice (for example, Addas Polo and Lubiya Polo), kabob, white rice, vegetarian dishes, Italian dishes such as lasagnas and spaghetti with meat balls, potato dishes such as roasted potatoes, rotisserie chicken and fresh salad. We also get Sangak bread from Key1 Food Market & Bakery in Chantilly. Our dessert menu consists of fruits such as watermelon, grapes, berries, cantaloupe, pineapple and kiwi, as well as ice cream, cakes, home-made cookies and sweets. We offer bottled water, juices, coffee and sodas. Coffee is donated by Saxbys Coffee at McPherson Square in Washington DC.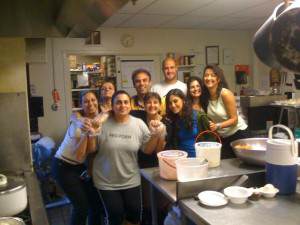 R: What's the most rewarding part of organizing this for the homeless?
D: The most rewarding part is being able to help those in need and seeing the joy in each and everyone we feed, clothe and shower with love. By doing what we do, we are inspiring and reminding ourselves and others of the simple power of unconditional love.
R: I know you have a fulltime job as well. How do you manage your time?
D: Yes I do have a job as I need to pay my bills and support myself. However, as I do not have any children of my own, I have adopted Dast2Dast as my baby. As "the mother" of Dast2Dast, the time I put into organizing charity events is precious time and it never takes away from my social/personal life for I have made it my personal life.
R: How can Iranian Americans who want to get involved help you?
D: What we need the most are volunteers and I believe PAAIA could help us spread the word about Dast2Dast and get more people interested in volunteering for us. One of my goals is to be able to organize shelter dinners once a week and this could only be possible with the help of more volunteers. Another goal is to have enough volunteers to pick up daily food from Costco and other food markets, and drop it off at shelters. Many food markets dispose of perishable food prepared daily that are not sold by the end of the day. It is such a shame that food which could feed the hungry is being disposed and wasted.
Desiree left Iran at the age of 13, and spent her adolescence in Belgium, her birthplace, before moving to the United States in 1983 where she now heads up her own real estate appraisal company. If you would like to help Dast2Dast, please go to their website at www.Dast2Dast.org and donate!!
Read this article on Payvan's Iran News
Read this article on PAAIA.org