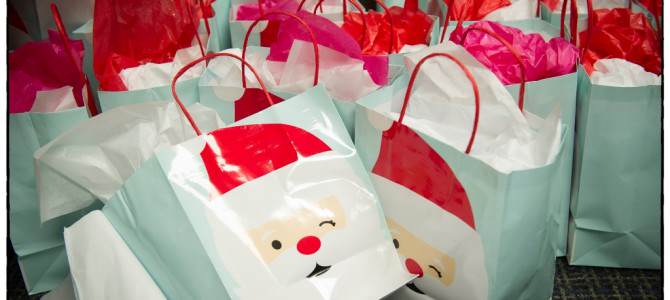 I love the Holiday seasons. Christmas, Thanksgiving and Nowruz (Iranian New Year) are my favorites. There is something about the songs, colors, even the smell in the air which seems to reassure that no matter how bad everything else might be things are going to be OK.
These are times of sharing, being with loved ones, giving, and at least for those few days bask in the wonder and the loving warmth of the season.
This year was perhaps one of the best. As part of Dast2Dast I had a chance to share a tiny part of that warmth and love with our homeless neighbors. Not only, like every month through generous donation of time, food, and money from our donors we prepared a wonderful dinner for all to enjoy, but because it was Christmas, we also wanted to give everyone at the shelter a Christmas present.
I had the good fortune to volunteer for our annual Gifts of Joy Project. Playing Santa Clause was even more fun than I had expected!
I wish I had a better mastery of the pen as it is truly difficult to describe the pure joy of working on this special event. We provided Christmas presents for everyone in the shelter by collecting material contributions from wonderful donors and shopping for the remaining items with the generous monetary donations. With the help and sales savvy of my cousins Donya and Mina, we managed to really stretch every dollar and put it to good use for a wonderful Christmas gift package for all the folks in the shelter.
As I said it is hard to describe what was felt, and what was seen. For obvious reasons, we can't take picture of the residents, as a picture would truly say a thousand words. All I can tell you is that there was no need to exchange words. The look on so many faces said it all. Not because of the gifts and what they were. After all, they were modest presents. The look of gratitude was for something else. It was for something that I think we all want, and some of us are lucky to have. It was for mattering, it was for someone actually caring for another, it was for not being alone at least for those passing hours. And, for us, it was the manifestation of that old cliché that brings the whole Dast2Dast family together; the joy of giving.
Mehrdad Erfani
(Photo credit: Kaveh Sardari/Sardari Group, Inc)