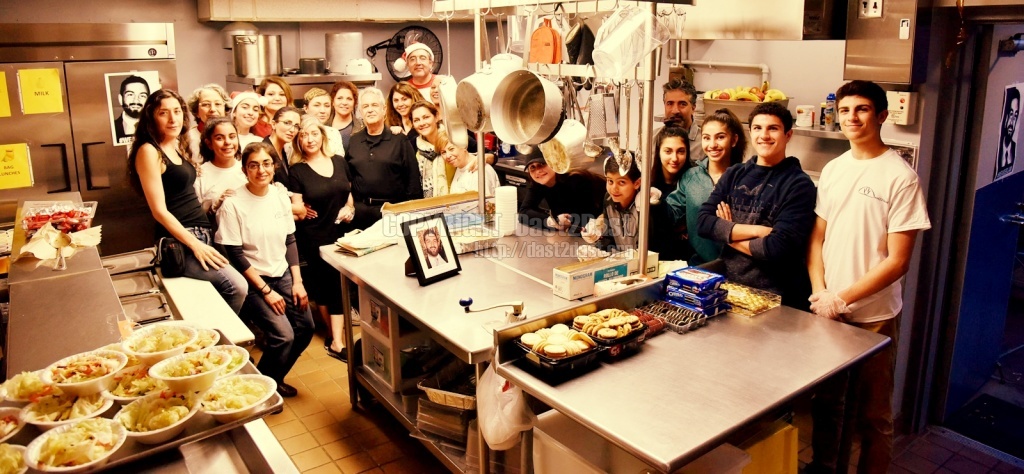 Like fourth Saturday of every month, on Saturday, December 23, 2017, the Dast2Dast team once again got together to give back to our community. Like every December dinner, we also shared a bit of the joy of the season with gifts that were made possible through generosity of so many through our annual "Gifts of Joy" campaign.
This dinner however was different than any we have had before. We had just lost a fellow volunteer and a dear friend, Bijan Ghaisar. This dinner was dedicated to him, to honor his memories. Bijan was taken from us on November 27, 2017. While the circumstances of his passing are still a mystery to us all, one thing is for sure: Bijan meant a great deal to a very large community of friends and family. This dinner started off like any other with our volunteers bringing in home cooked meals and preparing in the kitchen. The only difference was that the kitchen and outside areas were packed with people. Everyone was there to honor Bijan.
The December dinner is a special one for us. This is where we not only serve food, but we also give gift packages to our homeless neighbors at the shelter.
This year though, a void which is hard to describe, a longing, a wish, a hope that somehow all was well and the news about Bijan's death was not true, was all around us. The palatable silence of not knowing what to say to Bijan's Mom & Dad was deafening… what would one say anyway? All we could do is to share a moment of silence in memory of Bijan as a team and then with the residents.
This is a hard topic to blog about. In fact, we have been trying to write this for the past month. We have been struggling to come up with words to express our anger, sorrow, and the sense of helplessness we feel for the senseless death of a fellow volunteer, a friend's son, a gentle soul, a human being. We have been trying to write how we felt that day, describe the emotions of that day in that small kitchen, and convey how we felt; If we only had the mastery of the pen.
We each in our own way go out each day and try to do the best we can. We try to give back and share our good fortune. The Dast2Dast Volunteers show up each month with huge smiles on their faces ready to serve the community. The holiday dinner is normally extra cheery because we get to share Gifts of Joy. This year we raised enough money to get gifts not only for the shelter residents but also for the hypothermia group. It always feels so good to give back, to help someone in need. This year all those joys were there but they were overshadowed by the pain that was in the room. Kelly and James Ghaisar, Bijan's parents who joined us to honor their son, gave more than anyone else in the room. They were there serving those in need… it was incomprehensible for us to know what was going on within them, where did they get the strength to be there, helping as they have always done in the past. All we could do was to be there for them, for a hug or a tear.
Bijan was taken away from us, but his humanity and fond memories not only transformed that night, but more importantly will be the source of strength and inspiration that will help every single one of us to be a better person … and that is the silver lining, if there can be one, out of his tragic death.
Photos by Kaveh Sardari