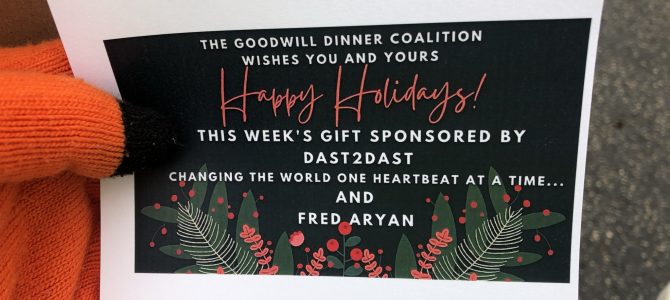 As this year comes to an end, we have so much to reflect back upon. For some of us it may have been an average year for others a great year; but unfortunately for many of us it will be a sad year to remember.
This year showed us the best and the worst of mankind.
The COVID-19 coronavirus was responsible for a lot of our great pains. This microscopic virus brought a world economy to a near halt, separated loved ones, canceled a lot of our traditional gatherings, changed the way we live life, go to school, go to work, and function in everything that we do.
But the one great thing this monster brought out of most of us is the kindness that we carry in our hearts and are so easily willing to share with our fellow neighbors.
Each year Dast2Dast is proud to sponsor our annual Gifts of Joy. It's a project that we started many years ago where we offer an opportunity for our friends and family to contribute dollars so that we can buy much needed, daily use items for those that are less fortunate. We have done this for many years and it has always been successful both for the donor and for the receiver. It is truly a Gift of Joy for all those involved.
This year we were lucky that the Ghaisar family offered to take on the entire Gift of Joy for the Falls Church shelter and donated all the necessary items in the name of their son Bijan! Bijan was taken from us in 2017 through an act of violence.
Since we had already started collecting dollars, we thought that we should put them to use for another great cause. We searched for a way that would give us the biggest bang for our buck and allow us to help as many people as possible. We were lucky to find a group called The Goodwill Dinner Coalition that is part of the Greater Bethesda Chamber of Commerce. They were putting together a food distribution to feed 250 families. Through the program we created a special add on portion that would offer these families a special holiday meal. We raised funds and then we went shopping.
We created a gift bag that started with a gift card to Giant Food to purchase the meat of their choice, then added stuffing, mashed potatoes, green beans, corn, cornbread, a roasting tray, a box of cookies, and fresh baked bread, baked that morning and donated by Lyon bakery.
On a sunny Saturday morning in December 6 families got together to assemble these bags. While it was harder than a regular volunteer activity in that we had to abide by social distancing rules it was still one of the most gratifying experiences of our lives. These families consisted of adults and children ranging in age from 5 to 16.  Everyone put their heart and soul in what would become a stranger's holiday dinner.
Early on Friday morning, December 16 the fresh baked bread was delivered, add it to each bag and the team started to organize and load the bags in seven different vehicles including a huge work truck that was offered by BUP (Bethesda Urban Partnership).
The bags were then delivered to the distribution site in Bethesda where 250 families walked up or drove through to pick up their food for the week and their special gift of a complete holiday meal. The weekly food was distributed by Nourishing Bethesda.
While this process seems simple it took about two weeks of hard work for many people to make it happen.  Even though the work was hard and ran late into some evenings, the pure joy on people's faces as they picked up their special holiday meal was worth every bit of effort.
It is moments like these that show us how great humans can be. It wasn't about making money or doing something for your own family. No, it was about simply helping someone else that needed us at that moment.
It's times like these that help us move forward. They help us see the goodness in humankind. It's times like these that I want to teach my children and I want my children to carry on to the next generation. It's times like these that define who we are in this moment of time.
Please take a moment to click on each of the high-lighted organizations above. While we work hard at Dast2Dast to do all that we can, we cannot do it alone.  These organizations, just like us, work hard on a daily basis to help complete strangers.  Please show them your support.
From our families to yours, we wish you a happy holiday season and a new year that will bring you not just happiness and joy but hope and prosperity for you, your loved ones, your friends, your neighbors, and everyone in the world that can use a simple smile to help them get through to the next day.
PS: In addition to the above project, Dast2Dast has continued to feed the residents of the Falls Church shelter on a monthly basis, has helped provide toys to children living in underserved communities and has reached out to support small businesses whenever possible.  While we are trying to "Changing the world one heart beat at a time…",  we cannot do it without your generous donations. We thank you and hope that you will consider contributing to our Leave Your Footprint! 2021 project.